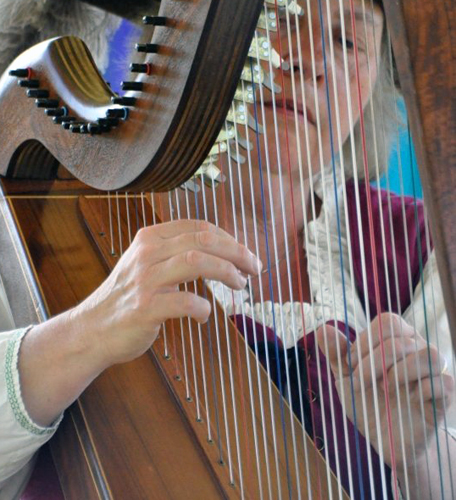 The harp you see me playing in the photograph above is called a Celtic, Irish, folk, or lever harp. Instruments much like these have been played for a thousand years or more, and are found in some form in practically every culture worldwide. These harps are not the direct ancestors of the modern pedal harp -- they are, rather, a modern attempt at reconstructing a musical tradition that almost completely died out in the late 1700s.
Harps were especially important both musically and culturally in Ireland, Scotland, Wales, and Brittany -- the Celtic nations -- in medieval and renaissance times. In Ireland the harp is the national symbol and appears on the flag, the coinage, and -- perhaps most significantly -- every bottle of Guinness stout and Harp lager. This tradition was nearly, but not completely, lost in the 18th century. In the 1960s, small numbers of people in the United States, Great Britain, and Europe began to re-examine the historical traditions of the harp, studied the few remaining written sources of music, and attempted to build new instruments based on the few examples that remained. At the beginning of the 21st century, the worldwide community of folk harp performers, builders, composers, and arrangers has grown far beyond the expectations of those early pioneers and now numbers in the tens of thousands.
The Celtic harp offers many advantages to performers, and audiences, who cherish live music that is by turns soothing, lively, informal, and elegant. It is a versatile instrument that can go many places pedal harps can (or should) not, and Celtic harpers are as much at home in the garden, the woods, an outdoor festival, or a lively pub session, as they would be in a concert hall or church.

I have been making music for virtually my entire life. Beginning at age four with the study of piano, I moved on through most of the orchestra woodwinds, percussion, and on to folk instruments including tinwhistle, mountain dulcimer, bowed psaltery, recorder, and melodica. In 2001 I was given my first Celtic harp (a 29-string Stoney End Lorraine) as a gift, and soon discovered this was the instrument I'd been longing to play all my life. I have been appearing at festivals, private functions, and stage productions in the Washington DC area since 2007.

My current instrument, pictured in the photo above, is a 36-string Swan, custom built from American black walnut and cedar by Oregon luthier David Thormahlen in 2004. Dave is an inspiring example of the American craftsman-entrepreneur. His handmade one-at-a-time instruments are favored by professional performers and recording artists the world over. More examples of his outstanding work can be seen here

I would love to enhance your wedding, reception, party, corporate, private or fundraising event, or any other occasion, with the enchanting elegant music of the Celtic harp. Please contact me to discuss your needs and hear about the services I can offer you on behalf of your clients, guests, or friends.

.

coming soon

May 12 - June 10, 2012
Virginia Renaissance Festival
Lake Anna Winery
Spotsylvania, VA
Details to come.


kathy@harpyr.com

(240) 672-3446
1163 Neptune Place
Annapolis MD 21409